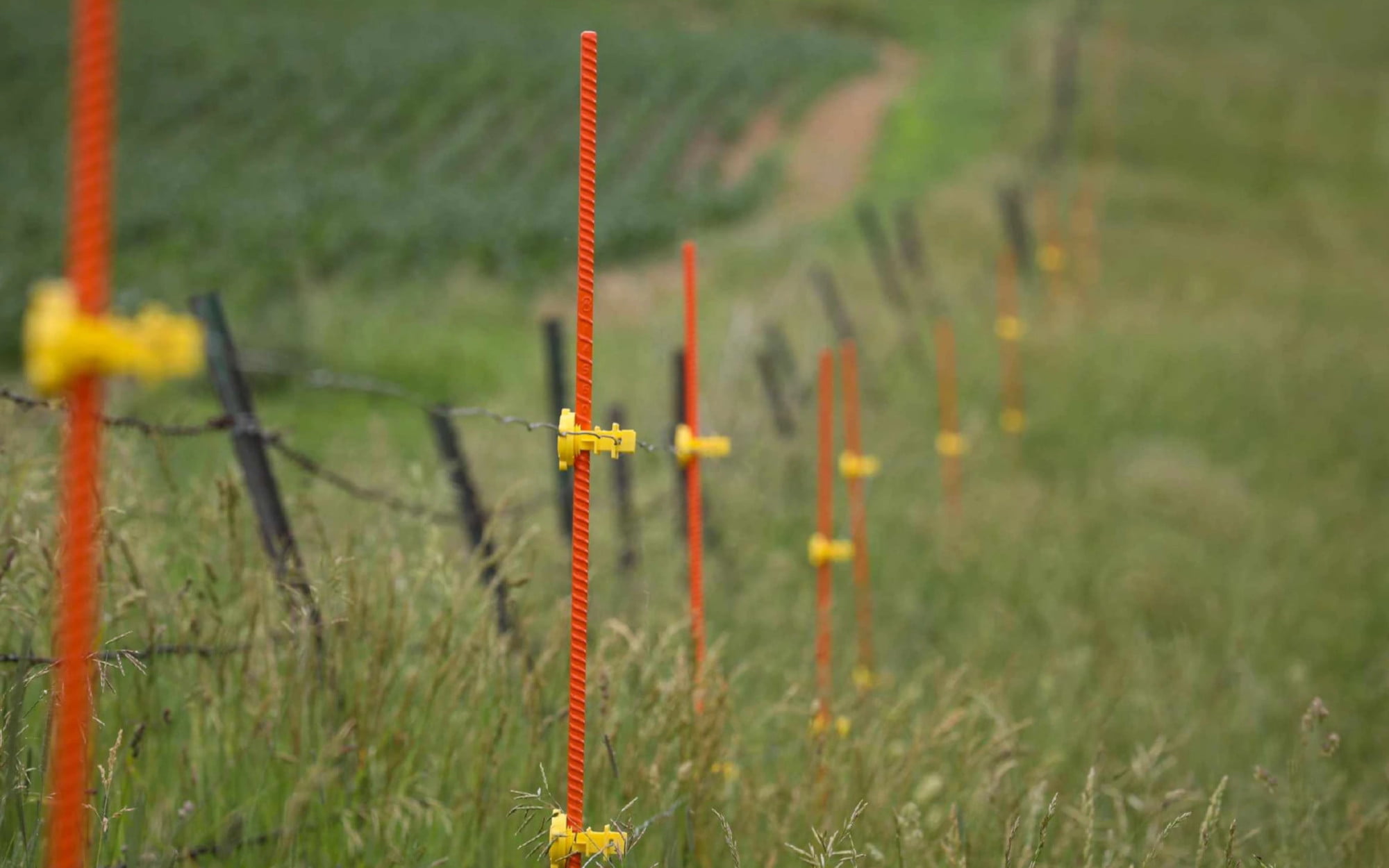 Using EZ Step-In Posts for Electric Fences
An electric fence is only as good as its stakes and grounding rods. These components are just as important as the hot wire. Most farmers and ranchers prefer steel electric fence posts, though other types of galvanized metal can also be used.
What's great about galvanized steel electric fencing stakes is that they can also be used as grounding rods, saving fence builders additional money and reducing hassles during the installation. This can be especially helpful when installing temporary electric fence posts. When it comes to colors, orange electric fence posts will make it easier to see the fence when it's time to perform inspections and maintenance.
EZ Breezy Electric Fencing With EZ Step-In Posts
How much time does it take you to install a traditional post that calls for a heavy post pounder? Minutes? Hours? Not including the abuse you inflict on your body?
EZ Step products offer property owners a new alternative. Our step-in fence posts give you a sturdy, long-lasting solution to your fencing needs. They're simple to install, designed with portability and versatility in mind, and made to stay where you need them to. Read on to learn more about our fencing solutions and how they can help meet your needs.
Common Questions About Electric Fence Posts
Most farmers and ranchers already understand the basics of how electric fences work. Some are making the switch from older systems that required excessive maintenance, though. They often have questions about newer electric fences and may be able to find the answers below.
An electric fence should not touch a wood post directly. Wood may not conduct electricity very well under normal circumstances, but it can still short out an electric fence. Try choosing another material such as rebar electric fence posts.
Rebar can be used to ground an electric fence since it meets the specifications for grounding rods. Grounding rods must be made of galvanized steel and should be at least four feet long. Most rebar meets those requirements.
Extension cords can be used with electric fences, but experts recommend that they be no more than 50 feet long. When using an extension cord to power an energizer, choose one that is rated for outdoor and industrial use.
An electric fence does not need to be a complete circle. Creating one continuous loop can increase the voltage because it will only need to travel half the distance. However, that's not always feasible, or even desirable.
It's possible to make an electric fence an insulator using common materials such as water pipe, PVC, or nylon rope. That said, it's better to purchase specialty products from an electric fence manufacturer.
There is no way to touch an electric fence without getting shocked if it's set up properly. If touching the fence doesn't produce a minor electric shock, it's either not properly grounded or something is touching it along the route, disrupting the current.
Electric wire fence posts should be spaced between 25 and 100 feet apart. Factors that influence the length between electric fence stakes include how large the penned-in animals are, whether the terrain is flat or rolling and whether ranchers are using heavy duty electric fence posts.
Ground rods for electric fences should be installed at least 10 feet apart. Most fences will need at least three grounding rods.
How many electric fencing posts will be needed requires knowledge of the electric fence stake spacing and the length of the fence. If the fence is long and the terrain is rough, purchase electric fence posts in bulk.
Setting up an electric fence can cost anywhere from $0.03 to $0.12 per foot of each strand. Farmers and ranchers that perform their own installations can save money on labor costs.
Failing to ground an electric fence stops it from working. The charge must be able to travel through the soil via the grounding rods to the terminal charger to complete the circuit.
Electric fences have at least three ground rods to ensure that when animals touch them, it completes the circuit and creates an electric shock. Long fences or those located in dry, sandy, or rocky soils might require more than three ground rods. Think of it as a minimum.